Contact Info.
You are browsing:
Home

Customer Delight
Achieving Customer Delight
Attended a Achieving Customer Delight Presentation?
Achieving Customer Delight In Your Organization - Field Book
AVAILABLE NOW at Amazon.com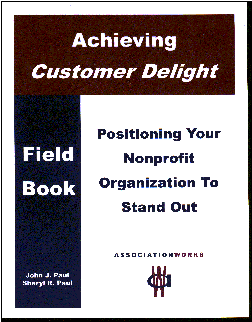 A comprehensive Field Book to assist your organization in identifying customers and their needs.
A Word About The Customer Delight Field Book
It's a sad statement, but today's customers have come to expect adequate or, in some instances, less than adequate service from the organizations with which they come in contact. Customers do not expect to have their needs routinely anticipated and surpassed . . . to be genuinely impressed by the quality of personalized service . . . in short, to be delighted by their customer experience.
Customer Delight is the process of ensuring that every customer interaction consistently demonstrates your commitment to exceeding customer expectations. Customer Delight goes well beyond customer satisfaction. When practiced at all levels, it will set your organization apart from the crowd and position you as the organization of choice for current and potential customers.
The purpose of the Customer Delight Field Book is to provide a series of useful exercises and practical tools that will help you to:
Inventory your customers and identify their baseline service expectations
Develop and implement effective strategies for achieving Customer Delight
Engage others in meaningful dialogues about how to make Customer Delight the way of life throughout your organization
Originally developed to support facilitated Customer Delight retreats, the Field Book can be used by individuals who are seeking to improve the quality of their customer interactions. It is your journal of the transformational journey that is Customer Delight. Write in it. Tailor the exercises to fit your unique situation. Use the ample space that has been provided to capture your personal thoughts, ideas, flashes of insight and action plans.
Customer Delight will become a core value of the organization when those involved in every aspect of the business become active contributors to the process. It all begins with you and the standard for customer service excellence that you set for yourself and model for others.
Be prepared to stand out in the crowd!